Latter-day Saint Charities President Sharon Eubank and Relief Society General President Jean B. Bingham are wrapping up a trip to the Middle East to visit the Kurdistan region of Iraq. They met with government leaders and visited Camp Sharya, located just south of its border with Turkey in northern Iraq.
Built seven years ago, the refugee camp is now home to 12,000 Yazidi people, who were relocated against their will after experiencing violence and political unrest. Some missing family members were taken by ISIS in Sinjar.
President Bingham and Sister Eubank, who is also first counselor in the Relief Society general presidency, walked through some of the thousands of tents that are home to 2,350 families, including many women with children.
"They have faith, and they have trust that God will help them. And that's something that we have in common with those who were in this area who have a different faith than we do," said President Bingham.
In June, a portion of the camp burned, destroying nearly 188 tents. Now, thanks to the Barzani Charity Foundation (BCF) and Latter-day Saint Charities, new concrete structures have replaced the lost homes.
"They had a cement floor [and] cement walls," said President Bingham. "They had privacy. It was clean and new, and you could see that they felt much better about themselves."
Sister Eubank recalls visiting the camp four years ago, "We sat down with a mother and her family, and I said, 'Is this any better?' … And she said, 'I have a kitchen, I have a bathroom. So, this makes the whole difference. We feel safe and secure.'"
Sister Eubank continued, "You absolutely can't replace sitting in somebody's new home, asking about their children, looking at their new sewing machine that they've just bought with their little savings. You just can't ever get that without being here in person."
"Our deep gratitude goes to our brothers and sisters [at Latter-day Saint Charities] in supporting building those concrete slabs," said Karzan Noori, head of programs for BCF.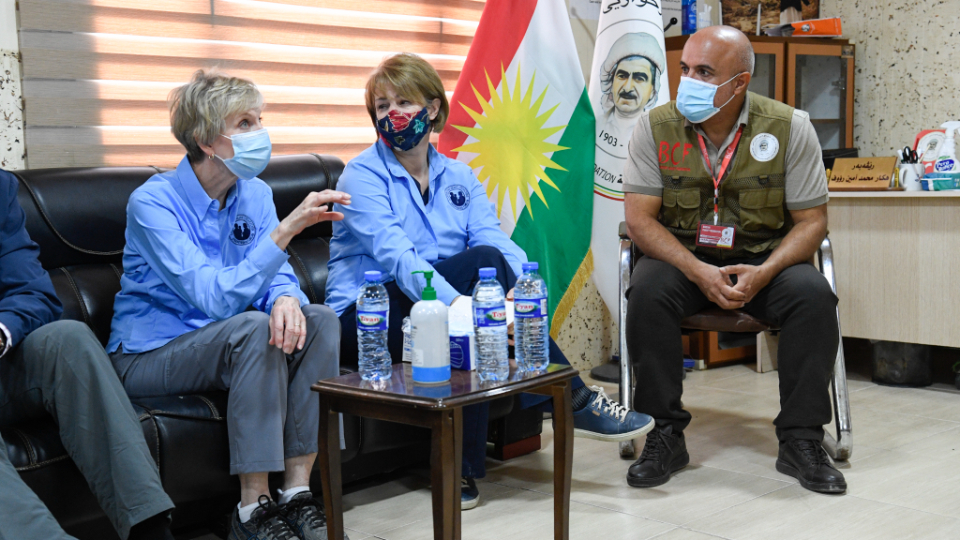 Providing temporary homes for the Yazidis is just one of many humanitarian projects made possible by nongovernmental organization (NGO) relationships and with the support of influential political and regional leaders, including Prime Minister Masrour Barzani.
"After talking to the prime minister, I had a little bit more hope that they are actually making some progress on resolving the difficult issues that are keeping them away from their home," said Sister Eubank. "They'll still need schools and health clinics and housing, but it's the politics that's keeping them out right now."
Latter-day Saint Charities was recognized for its ongoing support for causes such as housing, education and health.
While in Erbil, the capital and most populated city in the Kurdistan Region of Iraq, they were hosted by humanitarian missionaries, the on-the-ground team responsible for logistics.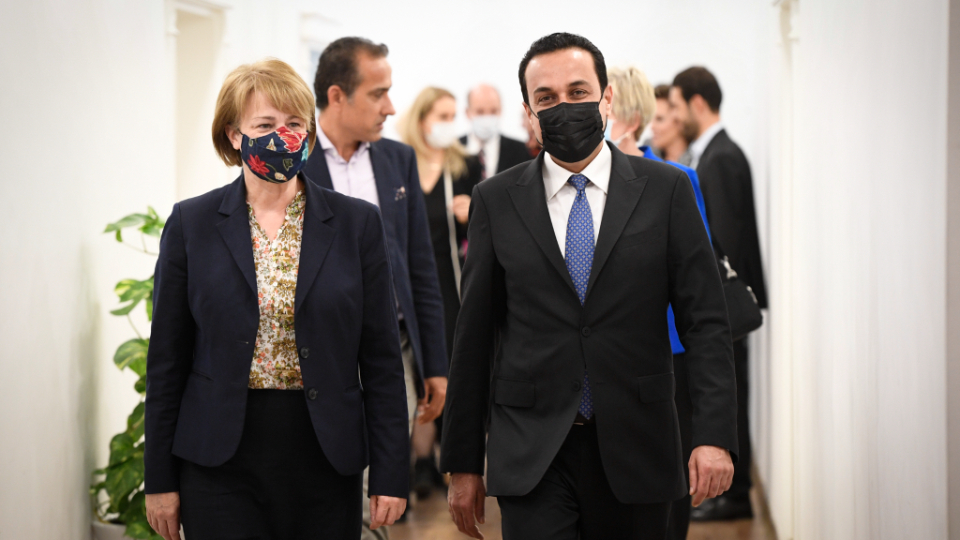 They also met with a few members of the Church in Duhok who are considered pioneers in the region, including Valentina Merezaoiam, the first returned sister missionary from Iraq.
"I never looked at it the way that I'm the first. But I think that … I was focusing on the way that … the gospel will change me as a person," said Merezaoiam.
"The saints in Duhok are pioneers," said Sister Bingham after meeting Sister Hanaa, mother of three, including a son who was the first missionary from the area.
"I was so impressed with Hanaa, who was the first member of the Church in this part of the world, and the way she has taught her children the gospel in her home [even though she] hasn't been able to gather with saints very much at all," explained President Bingham. "She is a true pioneer of the gospel."
The Church leaders also hosted a virtual devotional with Latter-day Saints in Duhok and Sulaymaniyah.
Elder David A. Bednar of the Quorum of the Twelve Apostles visited Sulaymaniyah, Kurdistan, in February 2019. In 1961, Elder Spencer W. Kimball and Elder Howard W. Hunter traveled to Iraq.