The Secretary General of the National Council for Child Welfare at the Ministry of Welfare and Social Security in Sudan recently visited the headquarters of The Church of Jesus Christ of Latter-day Saints in Salt Lake City, Utah, USA.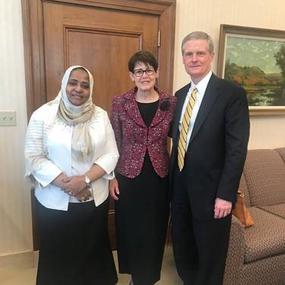 Mrs. Suad Abdelal Eltahir Abdalla also serves as the Commissioner of the National Committee for the Welfare of Children in Sudan. While on a visit to Utah, she met with high-level Church leaders and toured several Church facilities. Mrs. Suad visited Temple Square and the Conference Center, where she learned more about the Church's beliefs and history. She also visited several of its humanitarian and welfare facilities, which are part of the Church's efforts to serve people of all races, nationalities and religions across the world. The efforts of Latter-day Saints to serve those in need stems from a commitment to follow the example of Jesus Christ.

Commissioner Suad said she learned a lot during her visit and made many good friends.

"This is a turning point in my life," Mrs. Suad said of her visit to Utah. "I can see that there are other good people who have family values. It gives me hope." 

During her visit, Mrs. Suad met with Elder David A. Bednar of the Quorum of the Twelve Apostles and his wife Susan Bednar. 

"We enjoyed meeting Commissioner Suad and discussing our shared desire to serve all of God's children," Elder Bednar said. "We assured her that when Latter-day Saints come into a country, we come with a desire to partner with others of goodwill to bless the community."

Commissioner Suad also met with Elder Anthony D. Perkins, who serves as the president of the Church's Middle East Africa North Area, which includes Sudan.

"Commissioner Suad and I had a wonderful discussion of the many beliefs that Latter-day Saints have in common with Muslims, including the importance of family, scriptures, and the role of prophets," Elder Perkins said. "She is a lovely woman of great faith."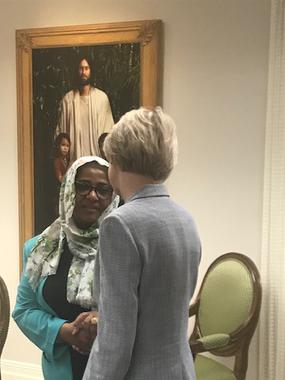 Also on Mrs. Suad's itinerary were meetings with Sister Jean B. Bingham and Sister Reyna I. Aburto of the General Relief Society Presidency and Sister Joy D. Jones, Sister Lisa L. Harkness and Sister Cristina B. Franco of the General Primary Presidency. The women discussed practical ways to bless children and families.

Mrs. Suad said she was surprised by her visit to Utah and to Church Headquarters. "I couldn't imagine a place like this," she said. "I thought the U.S. was only secular. Now I can try to be patient and teach my people. Every moment was a teaching for me here. I feel like I have a family, a back-up. I have good friends whom I can trust."